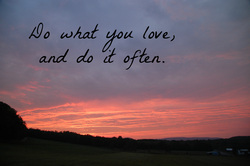 Blank pages have always intimidated me. I buy journals and let them sit blank for a really long time as I decide the perfect way to start. It's the same with paint canvas. What if I don't like what I write, what I paint and the page is ruined forever, and what if it's a masterpiece that never exists because fear killed it before it was created.

Eventually I always take the plunge. I start. I write something. I paint something. Sometimes it's awesome, sometimes it's not, but the only way to get to where you want to go is to start somewhere. So, I start. I don't really know yet what this space will be about, a little bit of everything I suppose. Maybe about the creative process, maybe about my life, maybe about my fears or maybe about the topic I'm passionate about at the moment. I'm sure I'll share artwork and photographs, maybe even some creative writing.

I'll go with what feels right, and with this, I have started, somewhere.